Latest news
Feb 15, 2023
Join us Thursday 16th February at 7:30pm at St. Aidan's Church
to discuss how the Association can help make Normandale a better place to live
Normandale sentinels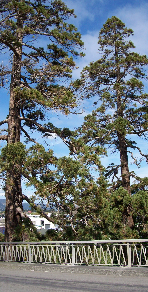 Two Sierra Redwoods, stand as sentinels by the Normandale Overbridge. These are located on the former estate of Sir William Fitzherbert K.C.M.G. who served as a MP and various other public offices).

About Normandale
A fabulous place to live – a dormitory suburb where people come for the quality of life, Normandale has community facilities for all ages from playschool to Senior citizens.
The historical road to Pauatahanui is still the physical backbone of our community– winding through well established housing in bush clad hills to rural properties and Belmont Regional Park.
The suburb is dominated by a treescape that conceals housing and brings native birds to your windows.
There is easy access to central city shopping, Library, swimming pools and railway stations.
We have an attractive network of paths and reserves, and easy access to Belmont Regional Park for walking, cycling and horse riding