Promoting the views and interests of Normandale Residents
The Normandale Residents Association is the successor to the Normandale Progressive Association which was formed shortly after the Suburb was named.
Our main focus is representing the views of the Normandale Community to Councils and Government Agencies through written and verbal submissions. We also organise practical projects to benefit the community.
Normandale Times
A monthly newsletter, The Normandale Times is delivered to every house in the suburb.You can access an on-line copies here of the current edition and back issues. Files are PDFs, right click and either save or open in a new window.
Committee meetings
Your Committee meets at 1930 on the third Thursday of the month at 17 Pokohiwi Road. All are welcome to attend. To see what we are talking about check out the minutes of previous meetings linked on this page.
Our regular events
Inorganic Rubbish Collection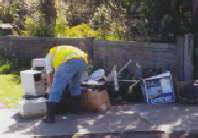 As an annual service to the community the NRA committee and their families collect rubbish that can't be recycled or put in the household waste.
We regularly collect multiple lorry loads of rubbish, but anything re-useable, and recyclable metal is sorted out first with the help of Earthlink, and Macauly metals.
Christmas parade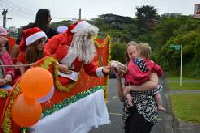 The NRA funds the regular Santa Parade through Normandale on Christmas Day